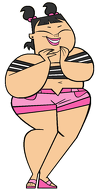 Sadie (The Smart BFF) was a contestant in Total Drama Horror. She was on the Screaming Gophers team. Her best friend was Katie, and they knew each other since Kindergarten. She returns to the third season as a contestant and comes when the teams merge.
Season oneEdit
Sadie is friends with people but didn't talk to half of them because of her early elimination. She only talked in "Feed it" which was the episode of her elimination. She was seen tallking to Katie mostly, but during the challenge she could show some attraction to Trent when she was laying her arms on him. She told Owen that he was cool and they both shared a hug before the elimination. At the ceremony Lindsay & Sadie wished each other good luck and Lindsay was the lucky one, while Sadie was sent home, and Katie was crying. Sadie isn't mentioned for the rest of the season until the special.
Season two
Edit
In "Aftermath: I" Sadie was the most vocal of the girls and always talked about Katie.
Ad blocker interference detected!
Wikia is a free-to-use site that makes money from advertising. We have a modified experience for viewers using ad blockers

Wikia is not accessible if you've made further modifications. Remove the custom ad blocker rule(s) and the page will load as expected.