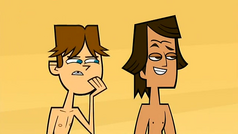 This article is about the one-sided conflict between Harold and Noah. Though they have rare interactions, Noah is easily annoyed of Harold's actions. Therefore, Harold is a big enemy of Noah.
Episodes For
Edit
Noah smiled a bit when Harold wasn't on his team.
Noah was shown annoyed when Harold was talking with the other guys. Noah was happy when Harold was sinking.
Noah ignored Harold when he was giving facts to him about animals. He then rejected Harold and made fun of him.
Harold and Noah glared at each other when they were cheering for the opposite person.
Season two
Edit
Noah agreed with Duncan that Harold not being in season two was good.
Harold says that he extremely wants Noah to be voted off and out again.
Both like Owen, DJ, Tyler, Izzy, Lewshana, Beth, Cody, Trent, and despise Duncan, Justin (though Harold doesn't know Justin)
Both have had problems with Duncan (As Harold was his victim and Duncan and Noah has tension in season two)
Ezekiel, Cody and Tyler are all friends with Harold but Noah despises only Ezekiel
Ad blocker interference detected!
Wikia is a free-to-use site that makes money from advertising. We have a modified experience for viewers using ad blockers

Wikia is not accessible if you've made further modifications. Remove the custom ad blocker rule(s) and the page will load as expected.