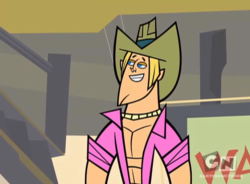 Geoff (The Lazy Party Dude) was chosen to be in the Screaming Gophers but was known for being a bit lazy in their most important challenges. However, he was also known for his big wild parties over night. In Season Two, Geoff became a little more active,but didn't make it to season two.
Season one
Edit
Geoff was a happy go lucky guy who loved to party. He was voted off early and was considered the monster of parties. In "Welcome to camp Righteousness" Geoff is the first to greet Bridgette and automatically hooked up with her. He became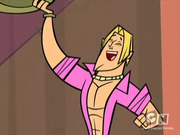 friends with DJ when he gave DJ a pet bunny. He became friends with Duncan without even talking to him (not counting when they pulled a prank on Harold in "Down in the Chumps". In "Down in the Chumps" Geoff jumped off with Tyler like he was king of the world and immediately started to flirt with Bridgette, and quickly prank Harold. The prank backfired when Harold used his thumbtack it poked Geoff and he flew straight out of bounds. Geoff thought nobody was going to boot him off because not many people hate him. But at the elimination, Harold gets his alliance to get him out with the help of some others. Because of that Geoff was out and wasn't mentioned until the the last episode.
Season two
Edit
In "Aftermath: I" Geoff runs the aftermath show and asks the eliminated cast members to say what they liked and hated on the show. He also humiliates them with special segments and videos never before seen.
Total Drama Extravaganza!
Edit
He was chosen to participate in Total Drama Extravaganza!
Ad blocker interference detected!
Wikia is a free-to-use site that makes money from advertising. We have a modified experience for viewers using ad blockers

Wikia is not accessible if you've made further modifications. Remove the custom ad blocker rule(s) and the page will load as expected.