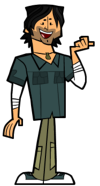 Biography
Edit
Chris McLean (The Best Host Ever) is the narcissistic, sadistic, and antagonistic host of the show. He has been hosting all episodes of the Total Drama Horror series and got ten trophies for hosting the sixth episode.
Season one
Edit
Ad blocker interference detected!
Wikia is a free-to-use site that makes money from advertising. We have a modified experience for viewers using ad blockers

Wikia is not accessible if you've made further modifications. Remove the custom ad blocker rule(s) and the page will load as expected.